Ordering and Viewing Instructions:
New mobile-friendly MP4 video!
WrestleMen TV is for users with high-speed internet on PC or Mac or mobile on smartphones and tablets that can play mp4 video. If you do not have a high-speed connection, it's best to just purchase the DVD for the video title you want if it's available.
1. Create a User Account
If you've never purchased a video on WrestleMen TV, you will first have to create a User Login Account. (This is separate from your WrestleMen login, if you are a member of the WrestleMen.com site.) To create your Login Account, just click on the button below the first video you'd like to watch. The following screen will appear. Click on Click Here to create a new account. If you already have a TV Login Account, just enter your Username and Password. If you forgot your TV login, click on Forgot Username and Password at the bottom.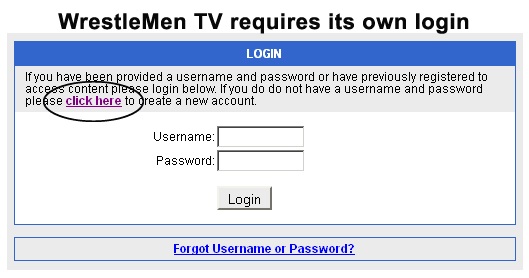 2. After you've created an account and logged in, a shopping cart will appear with the selected video to buy:
3. Click on Purchase and proceed with Payment checkout. Payment is secure via Paypal. Nothing will be shipped to your address, so you can choose "Shipping is not required." Also, don't pay via PayPal e-check if you want immediate access to the video. E-checks take 4 days to clear. After you have successfully paid for the item, you will be returned to the shopping cart like below with the video you purchased under the Authorized Content section.
4. Accessing and Viewing Video
To view the video you've purchased, click on the Access Content (Launch Player) button next to the video you wish to view. You will have two days from the time of purchase to view the video as often as you want, then it will become inaccessible. If you don't want to watch it immediately after purchase, just return to the TV page and click on the TV Account link on the top right of the page to call up the video later. The video cannot be saved to your hard drive, it is only a video stream authorized to be viewed on your computer.
5. Your video will appear in a Player window and begin playing. You can use the play, pause, and scroll controls to control your viewing experience.
6. That's it! If you like the video and want to buy it in crystal clear quality on DVD, click on the DVD button below the video title. That will take you to the DVD store where you can make your purchase. Enjoy!